Celebrate Love With Iconic Wedding Gifts
May 27, 2022
Jewelry and watches have remained the traditional wedding gifts for brides and grooms.
With lasting design and quality craftsmanship, these pieces are the ultimate emblems of enduring commitment. Whether you are looking to express love or establish a new heirloom, find your perfect gift in our collections of
Bucherer Fine Jewellery
and
Bucherer Certified Pre-Owned
by Tourneau | Bucherer.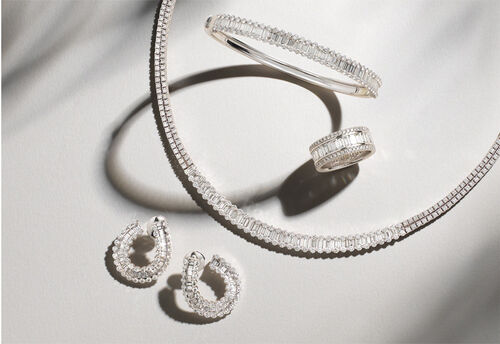 Gift Her Something New
Bucherer Fine Jewellery's modern
Lacrima collection
is perfect for the bride who adores the rare balance between subtle elegance and opulent sensuousness. Each piece intertwines classic design with a trend-forward approach, inspired by self-assured women who revel in radiance.
Our Lacrima pieces feature a signature teardrop design with a timeless diamond setting that makes a distinctive presence for any occasion. The perfect complement to a bridal look, or simply a beautiful pair that will always remind her of a special day, the
Lacrima Diamond Ear Pins
in 18-karat yellow gold are an exceptional choice.
If your bride has a free-spirited disposition, consider the Bucherer Fine Jewellery
Peekaboo collection
. The epitome of a "Joie de Vivre," the designs in this collection heroes around a solitary focal stone that lends a vibrant sparkle to complement the wearer's unique charm. Our
Peekaboo Diamond Ear Pins
in 18-karat rose gold offer a glimmering finish to any bridal look, yet fit in with daily wear as well.
You can never go wrong with the classics, which is why our Bucherer Fine Jewellery
Love Bangle
is the perfect choice for any bride. Cast from 18-karat white gold and set with baguette diamonds, this bracelet exudes understated elegance that will never go out of style.
Gift Her Something Blue
The tradition of brides wearing "Something old, something new, something borrowed, something blue and a sixpence in your shoe," dates back to Victorian era England. The tradition encourages good luck for brides – and while the outdated sixpence might not be attainable for most modern women, Bucherer Fine Jewellery offers a stylish way to incorporate a piece of blue into her look.
Our
Peekaboo Aquamarine Ear Pins
in 18-karat white gold convey the same free-spirited energy as the diamond iteration, yet in a vibrant blue colorway. This gorgeous gemstone is an icon of our Atelier's dedication to highlighting the unique sparkle of rare stones. An homage to vivid statements and stylish moments, this pair reflects its wearer's energy and zest for life – the perfect accent for a bridal look.
The Bucherer Fine Jewellery
Pastello collection
offers a union between harmony and contrasts, as this 18-karat white gold and sapphire bracelet demonstrates. The vibrantly-colored blue gemstones spark radiance, reflecting natural beauty with a dazzling finish.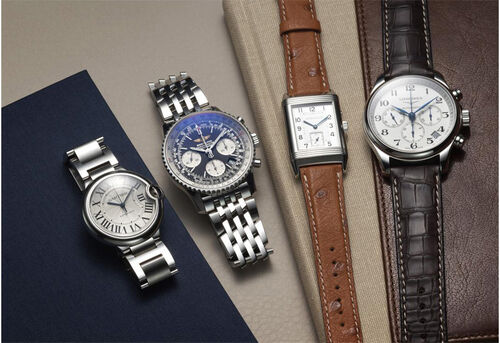 Gifts For The Groom
A timepiece makes for the perfect groom's gift, whether he prefers a top-tier rarity, a beautiful display of historic craftsmanship or a vintage icon.
Bucherer Certified Pre-Owned
by Tourneau | Bucherer is the ideal place to shop when seeking your groom's new heirloom, as our dedicated team of experts can help connect you with the right choice for his specific tastes. As a leading authority in high-end horlogerie with over 130 years of trusted knowledge, we guarantee our timepieces to be Certified Authentic and Expertly Restored by our team of knowledgeable watchmakers.
Every Pre-Owned timepiece tells a unique story. Tourneau | Bucherer will help you find yours.
SHOP JEWELRY
SHOP PRE-OWNED