certified authentic
Every pre-owned watch acquired by Tourneau is guaranteed to function within original factory specifications. Our 30+ master watchmakers perform certification and authentication, and a comprehensive 30-point inspection of every timepiece. If necessary, watchmakers perform a full movement service and overhaul, the watch's movement is taken apart and inspected piece by piece before being cleaned, lubricated, and put back together. Worn or broken parts are replaced using only original manufacture parts. The restoration process also includes expert cleaning and polishing, water pressure and magnetization testing, and replacement of straps.
To qualify as a Tourneau Certified Pre-Owned watch, the timepiece must meet superior standards and pass a comprehensive 30-point inspection that includes: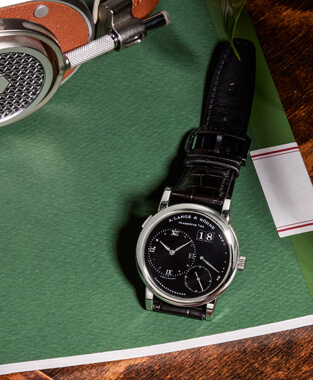 Technical Functions
Alignment of All Hands
Date Change between -5 and +5 Minutes of According to Caliber's Characteristics
Rapid Date Function
Chronograph's Function, Start and Stop
Test Pushers
Chronograph Drift (Hour Counter)
Chronograph's Function Minute Recorder's Jump
Shaking Movement of Second and/or Chronograph Hand
Rest of All Hands
Screwing and Unscrewing of Crown
Oscillating Weight's Freedom
Caseback Closing Torque
Movement Screws
Bezel Rotation
Examine Bezel Screws
Clasp Adjustments
Appearance
Cleanliness of Case and Bracelet
Polishing Quality
Plating of Crown and Pushers
No Dust on Crystal
Gaskets in Correct Position
Examination of Dial
Cleanliness of Crystal and Flange
Luminescent Points on Dial and Hands
Cleanliness and Conformity of Hands
Dial Centered
Diagnostic Testing
Water Resistance Check
Timing Analysis
Mechanical Watch Demagnetization
Automatic Cyclo Test
Two-Year Warranty
Every Certified Pre-Owned watch from Tourneau comes with a 2-year warranty that covers internal movement defects. Most warranty service is performed at our manufacturer-authorized service center and is carried out by our expertly trained 30+ master watchmakers. In some cases, timepieces are sent to the original manufacturer for warranty service. For additional coverage, you can upgrade your protection and purchase the Timepiece Protection Plan.
Unmatched Watch Selection
Tourneau carries the world's largest Certified Pre-Owned watch collection, representing the top luxury brands and designs. Our certified pre-owned buyers continuously update our watch selection with styles that range from rare and vintage to modern timepieces.