Exceptional Service For Rolex Watches
May 11, 2022
Our experts from Tourneau | Bucherer follow a long standing watchmaking tradition to guarantee high standards of servicing of Rolex watches.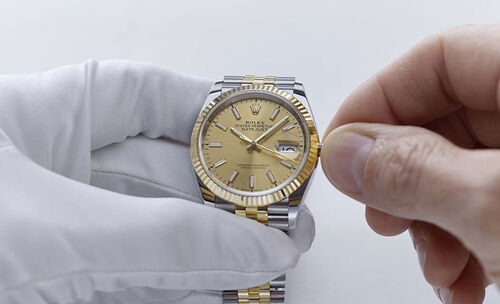 Our Process For Servicing Rolex Watches

The Tourneau | Bucherer Authorized Plaque Service Center is staffed by expertly-trained watchmakers who follow an exacting process for servicing Rolex watches. Every timepiece is guaranteed to function within original factory specifications, using only Rolex-made watch parts to maintain authenticity.

When our watchmakers embark on a servicing project, they begin the process with a careful examination of the timepiece to assess all work needing to be done. Work begins by removing the entire watch movement from the case. From here, the movement, case and bracelet each follow a unique path before reassembly at the end of the process.

A specialist will then dismantle the case and carefully examine each individual component. If a part is deemed unable to comply with Rolex requirements, a factory-made replacement is added. All components are then cleaned using an ultrasonic bath to remove all traces of impurities and enhance functionality.

The service expert re-finishes the case, bezel, caseback and bracelet according to their original design. The specialist completing this task places great care and dexterity into such a delicate operation.

The movement is lubricated, recalibrated and the watchmaker then makes any necessary adjustments to the precision of the movement according to the Rolex accuracy criteria and tolerances. This must all be completed before the movement is placed back into the case.

During this time, the case frame, bezel, case back and bracelet are re-polished or satin-finished according to their original finish.

Finally, the case is then reassembled and properly sealed before the watch is ready for the next phase, which is quality assurance testing.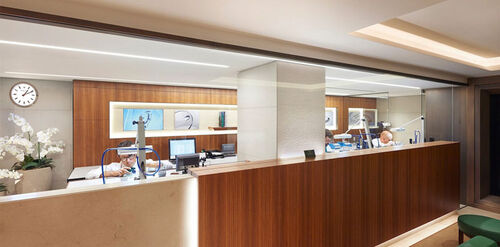 A Philosophy Of Excellence

Our Rolex servicing does not end upon reassembly. Instead, each timepiece is sent for a precise testing procedure that affirms our commitment to excellence. No watch may leave our Servicing Center without passing this series of examinations.

The first test our dedicated team carries out is for timekeeping performance and power reserve. This step measures the watch's chronometric precision once again, making any final adjustments necessary for it to meet Rolex requirements. The watch then undergoes another Rolex-specific test lasting at least 24 hours to verify the performance of the movement over time.

Once precision is ensured, watches are then tested for waterproofing. The team pressure-tests the timepiece to be sure all components are water-tight and properly sealed.

The watchmakers in the Tourneau | Bucherer Service Center follow an exacting set of procedures designed to ensure that every timepiece complies with Rolex standards. All timepieces are guaranteed to meet their functional and aesthetic specifications particular to the model.


Superior Swiss Timepieces By Rolex

Headquartered in Geneva, Switzerland, Rolex is an integrated and independent watch manufacture, recognized the world over for its expertise and the quality of its products – symbols of excellence, elegance and prestige. The movements of its renowned Oyster Perpetual are certified by COSC, then tested in-house for their precision, performance and reliability. Symbolized by a green seal, the Superlative Chronometer certification confirms that each Rolex watch has successfully undergone tests conducted by the brand in its own laboratories according to its own criteria.

Prestigious timepieces from the most emblematic ranges in the Rolex collection are on view at the Chicago boutique, including the Datejust, Day-Date, GMT-Master II, Submariner, Oyster Perpetual, Yacht-Master, Sea-Dweller, Sky-Dweller and more.

The Rolex Boutique Chicago aims to inspire customers, inviting them into the world of Swiss luxury.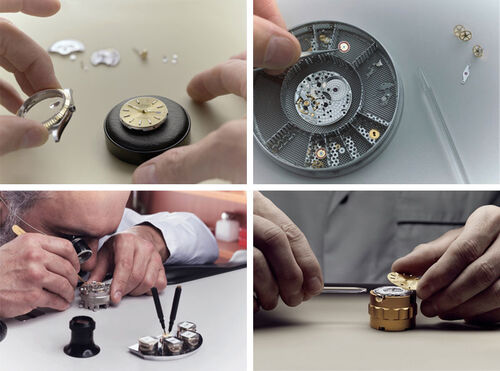 The Largest Network of Rolex-Authorized Watchmakers In The United States

Tourneau | Bucherer is home to the largest center of traditionally trained watchmakers in the United States. Our team is constantly growing, due to our training and apprenticeship programs in our ever-evolving service centers.

We currently operate our service center in New York City's Long Island City neighborhood. Our Las Vegas service center has been under construction for one year, nearly ready to open its doors to our eager and dedicated team to help service and maintain timepieces.

Adding to our service center headquarters are our Tourneau | Bucherer Rolex Authorized Plaque Service Center locations, which are strategically located in stores equipped with watchmakers who can provide assistance and servicing to Rolex timepieces, aiding clients across the country. Located in Costa Mesa and San Francisco, California, these two stores are positioned conveniently in neighborhoods best able to serve our Rolex customers.

We take pride in every servicing task, working through an intensive, multi-step process that utilizes specialists throughout every task.


An Authorized Rolex Service Center

The watchmakers in our cutting-edge workshops are trained according to proper excellence criteria and assessed regularly by Rolex. As a Rolex Authorized Plaque Service Center, Tourneau | Bucherer ensures first-class service throughout the lifetime of every timepiece. Our centers are modeled after the laboratory-like watch manufactures found in Switzerland, featuring the most advanced, state-of-the-art machines and technology. Our team is one of the largest in the world, and part of an exclusive, worldwide network of Rolex-trained watchmakers, each carefully selected for their uncompromising professionalism and expertise.

We take pride in every servicing task, working through an intensive, multi-step process that utilizes specialists throughout every task. Our quality assurance experts perform a series of tests to ensure every Rolex timepiece that leaves the Tourneau | Bucherer Service Center complies with the watchmaker's functional and aesthetic specifications.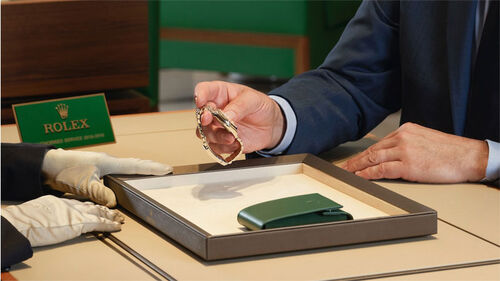 The Tourneau | Bucherer Guarantee
At Tourneau | Bucherer, our dedicated service team believes your Rolex watch deserves the most exacting attention. Every watchmaker follows the same exacting standards and expertise as guaranteed by a Rolex Authorized Service Center, committed to offering first-class after-sales service for any and every service need.
Our company is a union between two long-standing watch industry leaders – one American, and one Swiss – bringing together the best of retail and expertise from both traditions. Through our far-reaching network of over sixty stores and boutiques across the United States and Europe, and combined 200 years of rich history, we offer unparalleled service that surprises and delights watch and jewelry customers around the world.
After every completed service, we guarantee your Rolex watch can continue to perform its functions over time with outstanding reliability and exceptional beauty.
Learn More About
Rolex Service
Discover the
Rolex Collection