ENTER STAGE LEFT
August 2, 2022
The left-handed Rolex GMT-Master II no one saw coming.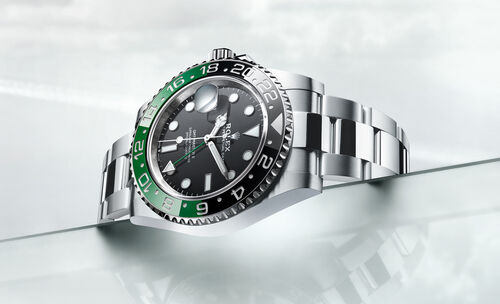 Rolex releases have been relatively subdued affairs in years past. More recently, however, the attention paid to Rolex's yearly releases has reached an online firestorm, with endless speculation and collection dissemination dominating social media before, during, and after the first few days of Baselworld (and from 2022 onward, the Geneva-based Watches and Wonders).

Every year, Rolex debuts a thoughtful new collection. These carefully considered releases often iterate upon an outgoing model with the subtlest of changes. Over time, a slow-moving evolution of each model line is established. It might be as simple as unveiling a well-known watch in previously unavailable case materials, the addition of an unseen technological development, or a distinctive new dial.

With so much attention lavished upon every Rolex release, creating an epic blockbuster would be as easy as giving the fans exactly what they want. Yet, as serious as they often appear, it's clear the world's most famous watchmaker enjoys having a little unexpected fun now and again. Catching the anticipatory watch world by surprise, Rolex debuted one of the year's stunners, a left-handed GMT-Master II.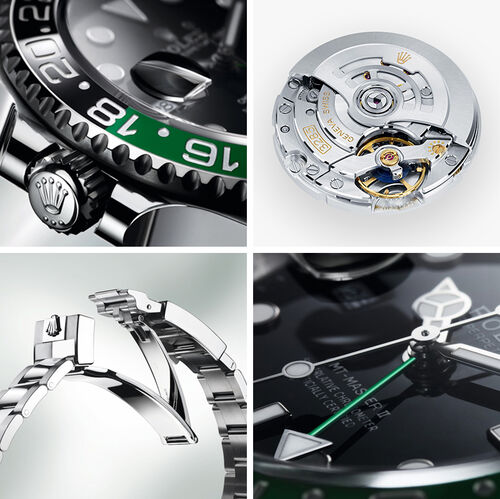 Will the new watch hold mass appeal? For red-hot Rolex, anything is possible. Have they offered left-handed watches before? Rare examples indicate "yes," with one-off custom-ordered pieces occasionally popping up at auction. Another sign of a Rolex becoming a potential blockbuster is the immediate christening of a nickname.

At the first in-person fair in years, christening the GMT-Master II with a nickname was the talk of the show. "Starbucks" (no), "Sprite" (maybe), and the superhero-inspired "Green Arrow" provided the most chatter. It's been months since the watch's initial release, and many more names have been tossed about, but nothing seems to have stuck.

For many armchair experts, Rolex shifting a winding crown and cyclops date window from one side to another was viewed as blasphemous. Adding to the shock was the simple disorienting appearance of the left-hand GMT-Master II. Is the watch upside down and backward? Am I seeing things? It was enough to stop the watch world dead in its tracks.

Rolex knew exactly what they were doing.

Taking one of its most practical timepieces and adding a left-handed option makes the GMT-Master II even more accessible. While the left-hand feature is simple, it's rarely seen. It makes you wonder why more manufacturers don't offer the option. Left-handed or not, the timing of the release couldn't have arrived at a better moment. The GMT-Master II is a navigational aid perfect for jet-setters, ideal for a world getting back on its feet after a couple of years of caution.

The defining bi-color bezel not only gives the GMT-Master II its signature look but defines the upper and lower halves of the bezel insert's functionality, green roughly indicating daytime hours and black for nighttime. The vibrant green and black 24-hour graduated Cerachrom insert is made from a high-technology ceramic, which won't corrode or fade over time and will remain virtually scratch-proof. The ridged bezel which holds the insert can be turned and set quickly.

The pure functionality of the GMT-Master II is undeniable: easily read the time in two time zones at once via hours, minutes, and seconds hands, plus a triangle-tipped 24-hour hand. In 1982, the GMT-Master II introduced a new movement that allowed the hour hand to be set independently from the other indicators, providing further functionality. Like all Rolex models, this tool watch can go just about anywhere, guaranteed waterproof to about 100 meters (300 feet) thanks to an Oyster case, a historically significant Rolex attribute.

Inside, you'll find the automatic Caliber 3285, a movement entirely developed and manufactured by Rolex since 2018 and introduced on the model the same year. The movement is indisputably Rolex, equipped with incredible precision, shock resistance, and anti-magnetism with a generous power reserve of 70 hours.

The movement first gets tested by the Swiss Official Chronometer Testing Institute (COSC), where it receives official certification. Nevertheless, the movement goes back to Rolex for even further fettling. The fully assembled watch is put through its paces, guaranteeing excellent performance in timing precision, power reserve, waterproofness, and self-winding with an accuracy of -2/+2 seconds per day, further improving upon COSC standards.

Fitted with an Oyster bracelet, a part of the collection since the 1930s, the three-link bracelet is as much of a Rolex icon as the GMT Master itself. The GMT-Master II bracelet features the patented Oysterlock folding safety clasp, providing added security that prevents the bracelet from opening accidentally. This Oyster bracelet also comes with the Easylink comfort extension link allowing the wearer to expand and contract the bracelet up to 5mm for added comfort.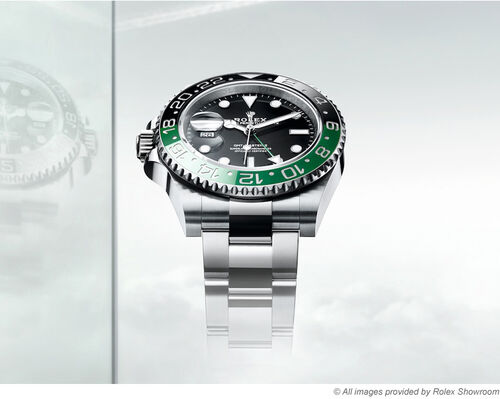 You don't become the most well-known watchmaker in the world by playing by the rules. You give the people what they want before they know they need it. In this regard, this delightful and charming GMT-Master II delivers on all fronts. With roughly 12% of the world's population being left-handed and predicted to increase, Rolex's official reasoning was, "we simply want to offer a greater selection to our clients." No other explanation was offered. And none is needed.
discover the
gmt-master ii collection
discover
new watches 2022