Finding The Perfect Jewelry Gift
March 8, 2022
How to select exceptional Bucherer Fine Jewellery pieces for any occasion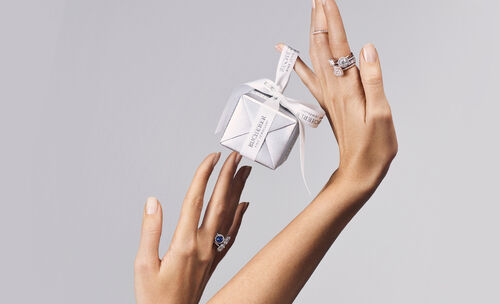 Selecting The Right Gemstones & Types Of Jewelry
Gifts are all about showing your affection in a meaningful, lasting way. And what better show of devotion than a gift of boundless style and value? Jewelry has long been a common option for a loved one as it demonstrates every quality of love: beauty, endurance and commitment.
Every piece of jewelry communicates a varying and unique message – so be sure to use any gift as a well-crafted love letter to show you care.
Rings
have long been used as a symbol of commitment, from engagement to marriage and beyond, to milestone anniversaries. Select a ring for your gift to commemorate a special occasion. Meanwhile,
bracelets
are the ultimate display of fashion – a beautiful piece that can be worn everyday and anywhere. A bracelet is the perfect gift for a loved one in search of a keepsake accessory.
Necklaces
and
earrings
are both symbols of communication, stylish pieces worn near the face to show off the wearer's identity and interests. Shop for necklaces or earrings for someone with a powerful personality.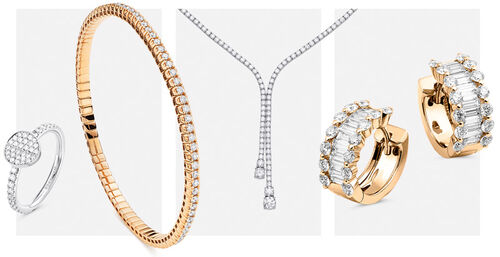 Celebrate Love With Bucherer Fine Jewellery

When shopping for jewelry, exquisite style should reign supreme – making Bucherer Fine Jewellery the perfect choice. Founded by Luise and Carl F. Bucherer in Lucerne, Switzerland 1888, the Atelier follows a longstanding tradition of precise craftsmanship. Maintaining this legacy, Mina Bucherer began travels to South America in the 1920s, seeking out the most exquisite gemstones on the continent, to bring them back to our Atelier to create one-of-a-kind and unique pieces to inspire and excite women. Today, the Swiss jeweler continues to bring together precision diamonds and rare gemstones with a unique savoir-faire.

Each exceptional piece in the Bucherer Fine Jewellery collection is an expression of an unmistakable personality with elegant design – exactly what is wanted from any gift.

Creativity is integrated throughout every breathtaking beauty in the Bucherer Fine Jewellery collection, crafted with vibrantly-colored rare gemstones for a one-of-a-kind appeal. Bucherer Fine Jewellery's timeless and modern creations reflect a unique charm, spread a feeling of joie de vivre and act as lifelong companions.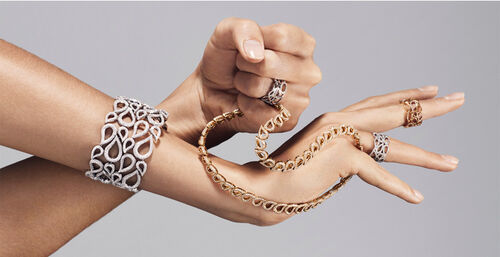 Fall In Love With The Lacrima Collection
Highly romantic and utterly exquisite, Bucherer Fine Jewellery's
Lacrima collection
is a perfect pick for birthday, anniversary, wedding or holiday gifts. Each Lacrima ring, necklace, earring or bracelet is defined by teardrop-shaped pieces adorned with
diamonds
, with intertwined, pointed ovals that form an alluring appeal, representing tears of joy for an emotional design.
Lacrima captivates with a rare balance of subtle elegance and opulent sensuousness, making a distinctive presence in every occasion. Perfect for self-assured women who revel in radiance, Bucherer Fine Jewellery's Lacrima collection is a must-have.
Shop Bucherer
Fine Jewellery
Discover More